Fusion Group is proud to announce its first major real estate project in Rwanda: a financing of Kigali Heights Development Company (KHDC), based in Kigali. The $16m flagship project was won by Fusion in the face of significant competition from international developers. The project involves the construction of a dual tower, Class A office and retail block in Kigali's expanded Central Business District. Internationally experienced service providers have been selected to ensure the quality and success of the project.
Daniel Kamau, Head of Real Estate for Fusion Capital, says: "This is another major real estate investment for Fusion, focusing on a high quality proposition in a high quality location."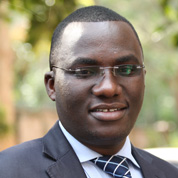 Daniel Kamau, Head of Real Estate for Fusion Capital
The development: Kigali Heights Development Company
The project will involve the construction of nine storey commercial premises, to be let as office and retail space. The building will be situated in a prime location, fronting the Kimihurura roundabout, directly opposite the multi-million dollar Kigali Convention Center and the Kigali Centenary Park. The location fronts the main highway that links the airport to the Central Business District.
In keeping with Fusion Group's strategy, this will be a syndicated investment, involving co-investors who are well know to the Fusion network. The project will involve raising a combination of debt and equity capital, totalling $16 million. The completed development will be sold in part or in full, to facilitate exit for investors in the future.
Partners
The key partners for development are already in place.
Dennis Karera: Managing Director of Denka Business Solutions Ltd, a Kigali-based company dealing in real estate and property development, international procurement and supplies. He has over 10 years of experience in property development and handling business projects in Kigali. Mr Karera is the proprietor and Managing Director of Park View Courts, an outstanding Apartment-Hotel facility in Kigali. He is also the Chairman of Rwanda Hotels, Restaurants & Bars Association, and is a key player in the activities of the Rwanda Private Sector Federation.
Michael Idusso, Associate Director of Vavaki Architects, an architectural firm based in the UK. Mr Idusso has worked extensively on projects in the commercial, residential, leisure, religious, retail and mixed use sectors in Europe and Africa. He has considerable experience of designing for the East African marketplace. He holds a BA in Architecture from the Southbank University in the UK.
FOR FURTHER INFORMATION REGARDING THIS NEWS RELEASE, PLEASE CONTACT:
Diana Gichaga, Head of Investor Relations, Fusion Investment Management:
dgichaga@fusiongroupafrica.com
Tel: +254 (20) 2710149 /53 /55