The Government of Kenya ('GoK') is offering a two year fixed coupon Treasury Bond value dated 24th March 2014 (issue number FXD 1/2014/2). Click here to see the prospectus.
The current yield for 2 year paper is about 11.5% in the secondary market. During the last three bond auctions, yields have been on a downwards trend. In addition, the yields on Treasury Bills have also been on a downward trend. The GoK is expected to issue its maiden Euro Bond (Target amount is USD 1.5-2bn) this year, which we expect will reduce the GoK's domestic borrowing and improve liquidity. We expect the effect of this to be further reduction of yields on Kenyan treasury paper, and interest rates in the domestic market as a whole.
In addition, we are of the view that in issuing a short dated paper, the Central Bank of Kenya ('CBK') may be sending a signal that monetary authorities feel that the interest rates in Kenya are high and that they expect the rates to come down. The long end of the yield curve hasn't changed much in the last year with the rates remaining in the lower teens and that is why the Treasury has shied away from making longer dated new issues, opting instead to re-open the existing bonds.
In view of this, we feel that issue number FXD 1/2014/2 presents an opportunity for investors to lock in double digits yields. We believe that the market may bid for this offer just slightly higher than the prevailing yield of 11.5% in the secondary market. If the interest rates eventually come down as we expect they will, at a coupon of 11.5% for issue number FXD 1/2014/2, one can liquidate their investment in the secondary market at a premium.
The graph below shows the Nairobi Securities Exchange yield curve as at 7th March 2014.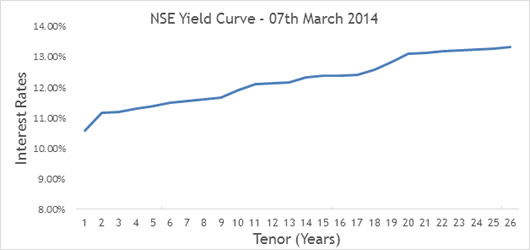 If you wish to talk to us about this bond offer, please get in touch with:
In Kenya: Contact Harrison Green; Nirmal Pattni; Kenneth Muchina
In the UK: Contact James Maclean